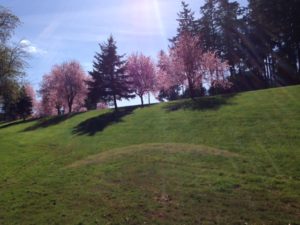 Summer memories can be of a single day, or they can be a composite of memories that took place over months or years.  Below are some essays about summer memories that have been submitted by visitors to this website.  After reading these essays, we hope you will write some of your own and submit them to the website.  You can do that by clicking on the picture below of the dog in the mailbox!
A Welcome Summer Chore
Michael Yanega
I know, 'welcome' and 'chore' shouldn't be in the same sentence, but for me cleaning our backyard pool in the summer was something I had fun doing. We had an above-ground pool that was 12' in diameter and about 3' deep. It had a wire mesh wall with widely spaced horizontal ribs at the top and closely spaced ones at the bottom to take the added stress of the weight of the water. We had cleared a circular area for the pool by tearing up the lawn, removing the rocks, and packing the dirt. (The first time we put up the pool we failed to realize what would happen to the lawn underneath and had a bunch of smelly, rotted grass when we took up the pool to clean it.)
Which brings me to my job. As the oldest kid in the family, and in those years the only boy, it was my job to clean the pool. You see, after a few weeks of New York Summer weather, the water began to cloud up with algae, and the bottom and sides of the pool became slimy with it. The first step was to drain the water by gradually pushing down the vinyl plastic walls of the pool and flooding various parts of the backyard with the tidal waves I released. Then, when the water was low enough, I removed the wire walls, and hauled the pool with one end over my shoulder to spill out the remaining water. The back yard felt like a swamp for a while after this draining process, but in summer it either soaked into the ground, or evaporated, so that it was gone in a few hours.
The next step was to scrub the algae from the inside of the pool, and my father taught me a clever way to do it. We put the pool on the walls inside-out, and then scrubbed it with Clorox bleach mixed with a soap solution. I crawled and slipped around the inside with a big sponge scrubbing the bottom, while my dad used a sponge-mop to scrub the sides, which were now on the outside of the walls. Then we used a push broom with its head underneath the center of the pool as a center pole to form a sort of round tent. I crawled around inside this with a hose and blasted off all the grass and dirt that was on the bottom of the pool. We would leave the pool in this configuration to dry, and then set it up and fill it again.
Eventually I did this entire job by myself, and one day a summer thunderstorm came up and the wind began gusting prior to the wall of rain hitting. I was inside the pool-tent, suffused with the yellow light of the plastic bottom that had become my roof. This rattled and swayed in the gusts, and I had to grab the broom to keep the whole thing from collapsing on me. The rain starting falling in huge drops that beat a solid, deafening rhythm on the plastic above my head, and soon there was thunder to add to this din. I loved it! Thunderstorms were one of my favorite parts of summer, and here I was in this vinyl-walled echo chamber, staying completely out of the storm, but immersed in it at the same time. I sat in the amber glow and reveled in the fury of the storm, watching the water sluicing off the roof all around me, until it had passed.
Experiencing that storm in that setting was a highlight among my summer memories.
Summer Afternoon
Lillian Claunch
Sleepy, lazy day.  Golden warmth over barren skin, unshod toes wriggling with delicious freedom.
Buzzing flies against the screen.  Icy, tingling lemonade bathes my tongue, cooling my being.
Ah, my brothers hollering in the yard.  Squirting streams and splashes from the hose.
Doggy skittering away, boys laughing with mischievous delight.
Run, run. Squishy toes in sodden earth making mud cakes for throwing.
"Come on out, Sis, we've got something for you!"
Crazy, Not Stupid
Bonnie King
Note: The essay below is by author Bonnie King (The Road to LaReta, 2017) who began her summer this year (2018) by driving from Seattle to the small North Dakota town where her grandmother once ran a hotel and where her father grew up.  Summer in North Dakota may not be everyone's cup of tea.  But Bonnie found it echoed with stories she had heard from her father and grandmother over the years.  And, she had recently completed a novel based on family history in the area.  The old hotel her grandmother ran is still there in this small town!  Bonnie found it all so inspiring, that she is now exploring purchasing a building on the town's main street and turning it into a wedding destination.  She's spending THIS summer exploring this ambitious idea!  A homecoming of sorts that spans generations!
"I may be crazy, but I'm not stupid," I responded when questioned about my recent entrepreneurial idea.
The questioner chuckled. "There IS a fine line you know."
To make sure of my response, should I choose to use it in the future, I looked up the words "crazy" and "stupid." Crazy has two meanings: mentally deranged and extremely enthusiastic. I'm crazy about the second definition!
Stupid, on the other hand, ("Goes to the bone," as Scott would say. Or was that "ugly?" Forget that for now and carry on with me) has one meaning: lacking intelligence or common sense. Aren't those two meanings? Either you lack intelligence, or you lack common sense.
I'll never claim at my age that I lack intelligence. After all, I've had 70 plus years to acquire and apply knowledge. The definition of intelligence doesn't say anything about how one applies knowledge. Perhaps that's where common sense comes in. Okay, I'm getting better at that too, although some may argue otherwise.
"So, what sparked the conversation in the first place?" you ask. Maybe you didn't ask, but I'll tell you because I'm "extremely enthusiastic."
This summer, Almont, North Dakota, grabbed me by the spirit and won't let go. It's where grandma Dena ran a hotel in the 1920s. It's where grandpa Jim owned and operated a pool hall full of intrigue and dastardly deeds and where my father got into all kinds of trouble as a kid. My book, The Road To LaReta tells the story, available at Amazon Books in print and as an eBook. (This ad approved by Bonnie King).
Since returning—and there were 1500 miles on the way back to envision the possibilities—I've decided to rent a new built home from my daughter and son-in-law that will be ready in early 2019, sell my home after thirty years, and use the proceeds to invest and renovate a truly ugly, abandoned two-story bar (brown front) on Main Street in Almont, population 123.
"What are you going to do with it?" you ask.  Of course, you want to know. I do too!
How about creating a destination wedding and event center? It's within an hour of Bismarck and the market area has about a hundred thousand people or more. Surely, someone wants to get married in a rustic setting! (I know; I use exclamation marks way too much, but that's because I'm extremely enthusiastic!)
"And will you live there year-round?" you ask.
"Are you crazy," I respond, meaning mentally deranged. "It's 40 below in the winter and the wind blows up to speeds I can't comprehend. Yes, it does get hot in the summer too, but that's wedding season, so…  Part of the renovation must include air conditioning. The plan is to be there for about six months a year: spring, summer and early fall." (Oh boy, now I'm in trouble with my friends and family in North Dakota. They're not crazy for living there year-round; they're acclimated!)
There are many hurtles to vault and questions to be answered concerning the event center, but I am taking another road trip to Almont, North Dakota the end of July to meet with the owner and discuss possibilities. All of this may come to naught, but when you're crazy like I am (pick your definition), you have to follow the dream. Don't you think?
A Fine Summer Afternoon in Liechtenstein
Mieke Tazelaar
I taught for the Army in Frankfurt Germany from 1962 to 1964, and during the summers, I traveled with friends. One summer,we chose to travel to Liechtenstein on a four-day tour. We were charmed by this tiny country, tucked between Switzerland and Austria. We found a spot where, we told, it was possible to see five nations at the same time. The point was a high meadowland, and the view, spectacular.
After a few minutes, my friends were ready to move on to Vaduz, the capital, to view the famous Castle, but I was so drawn to the view and the peace around me that I wanted to stay. So we struck a compromise. They would drive to Vaduz and pick me up in a few hours.
I was alone, in this stunning scenery, with nary a soul in sight. The reading board, fastened to a post, gave me all the information I needed. I was in the south part of the country. If I looked to my left, I viewed Austria. To the right, was Switzerland. Both countries were evident because of their mountainous terrain.
But if I stared far enough in the distance beyond a sliver of Switzerland, I could see Germany. I had to take this on faith. Straight ahead, beyond a corner of Austria, lay Italy. So I was told on the board.
I stood in the center of a five-country panorama, in bright sunlight, listening to birds and other wildlife that scurried about. This was my domain, solely mine. I was empress and ruler over what I could scan with my eyes. The colors of the wildflowers the trees, the Alpine terrain, blue sky and white clouds, overwhelmed me to tears. I sat down and let the sun bathe my face. What a lovely empire had been entrusted to me. Fat bees buzzed and flitted between flowering grasses, and at my feet, a vivid blue dragonfly, seemed to look up at me. My subjects! Or was I theirs?
I felt sleepy and I lay down in the grass, surrounded by the fragrance of nearby flora, which I could not identify and did not need to. I plucked a sprig of flowering grass and crunched it between my teeth, where it left a fresh, nut-like taste. The riches my friends were viewing at the Castle must be impressive and wonderful, I mused, but for me, I felt enfolded in the beauty of my pristine surroundings.
I looked down and saw the dragonfly lift its wings and catch sunlight on its luminous body. It hummed past my face and I closed my eyes. I slept.
Click here to send in entries!


Awaiting your entries for the July Challenge!