Check out the new book: The Covid-19 Diaries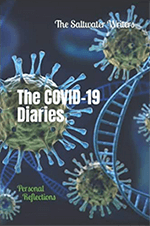 Joan edited this collection of pieces for her writers group, The Saltwater Writers.
Although it addresses personal responses to Covid-19, it is not about hardship, but about fellowship.
An inspiring collection!
Whether you write alone, or with others,
regular visits to this website will keep you motivated.
Joan Tornow, Ph.D., is the memoir-writing guide
you've been waiting for.
She's eager to hear from you!
This book will help you get started and realize how much you remember and have to say. Think of all the stories you could tell.
"A thorough guide for aspiring memoirists"
                                       -- Kirkus Reviews
"This book is a treasure chest of ideas and inspiration, a tool box of techniques, a road map for the beginner, and a jump-starter for writers at any level. I use this book constantly!"
                                        -- Phyllis D. Mitchell
✓ Write the chapters of your life
✓ Start your own memoir-writing group
Sign Up For Our Monthly Newsletter