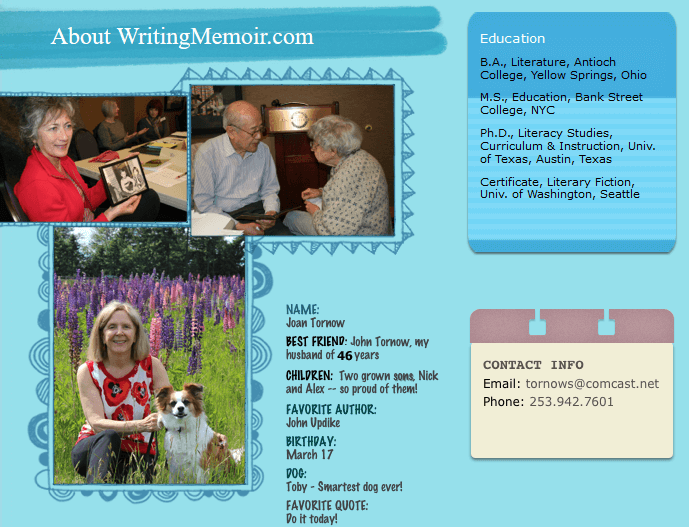 About This Site
After teaching memoir writing for a number of years, I realized there was a need for a wider network of writers. This website offers a place for memoir writers to be inspired by the work of others and to submit their own writing.
If you're just getting started in writing memoir I recommend three steps:
Read as many memoirs as you can
Meanwhile, begin writing about your memories, in any order that you choose
Join, or form, a memoir-writing support group for a rewarding time of sharing stories and writing tips
About your guide
writingmemoir.com is owned and operated by Joan Tornow, Ph.D., a writer and teacher of writing.
Joan Tornow is the author of several books about writing. Early in her career, Joan was a journalist in Birmingham, Alabama, writing for The Southern Courier, a Civil Rights newspaper funded by the Ford Foundation. Since that time, Joan has done educational research in Europe and has conducted writing workshops in five countries. Joan has taught memoir writing for fifteen years in the Northwest. She lives near Seattle with her husband, John, and their dog, Toby.
VISIT JOAN'S BLOG: www.joantornow.com
BUY JOAN'S BOOK ABOUT MEMOIR WRITING:
Writing Memoir Together: A Roundtable Approach
"A thorough guide for aspiring memoirists." --Kirkus Reviews
Click here to order: amazon.com (Kindle version now available, too!)
Other Published Works:
Link/Age: Composing in the Online Classroom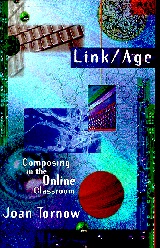 In one of the first book-length studies of a networked writing classroom, Joan Tornow explores a complex web of issues now receiving close attention both online and off. Beginning from a small experimental writing class—a room in the basement—at the University of Texas, Tornow studies the interactions of students online, their composing processes, their underlife resistance to the culture of school, and the way they reflect the intellectual tonality of their time. A thoughtful exploration, Link/Age will be of interest to composition scholars and teachers, whether they are web veterans or are approaching the online classroom for the first time. Click here to order