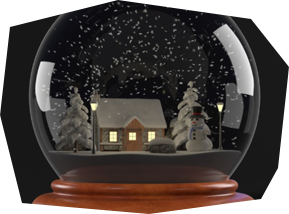 I've learned some helpful tips from Martha Stewart. For example, I learned that I don't need to go out and buy fall and winter foliage for my Thanksgiving and Christmas table centerpieces.  Instead, I can just go in my backyard and pick out a few ferns, some small branches, and maybe a spray or two of berries. Pine cones can be found on the trail where I walk my dog. I can cluster these on the table and perhaps add a candle or two. Voila! And, I learned that it is fine to add one "misfit" flower or plant to an arrangement. Not everything has to match.
But, I also think that Martha Stewart has perhaps unwittingly added to the unfortunate situation in which women (and some men) feel that they need their porch, their house, their tree, their yard, their food offerings all to be perfect!
This adds stress, and even competition, to a season which should be full of love and comfort.
Along with these thoughts, I've been reflecting on how the true gifts of the season come not from some heroic effort at decorating, baking, or entertaining. Rather, the gifts come in small moments of joy and serendipity. My Uncle Jim, who passed away this month, taught me to focus on these moments which he dubbed "microjoys."  A microjoy does not stem from a huge and historic event in our life.  Rather, it is just a joy that occurs within a moment — a joy that comes unbidden and that brings a smile to our lips, a warmth to our heart.
This year, for example, one microjoy that comes to mind is when our 17-month old grandson pointed to an angel on our Christmas tree and said, "Baby?" This particular angel was one I purchased years ago at a craft sale and has comically wild hair. His labelling of this as a "baby" filled me with delight.
Another microjoy was biting into an "opera cream" from Esther's Chocolates, a candy store in Cincinnati. My younger sister, Linda, sent me a box of these for Christmas, and they are wonderful. I also felt a microjoy when I shared this box of candies with my Unitarian Chalice Circle that met on the Friday evening between Christmas and New Year's.
And the list could go on and on. 
One of the reasons I like to focus on microjoys during this holidays is because microjoys can serve as an antidote against our tendency to assess whether our Christmas is measuring up to some external standard. It is a good time of year to repeat to ourselves the following mantra: Don't let the perfect be the enemy of the good.
There are so many good moments during the holidays. Be on the lookout for them.  And celebrate each moment as a microjoy. Next: Send US some of your holiday microjoys!
We hope you'll submit what you come up with.
Let us hear from you!

Click here to see what others have written!