Walking Experiences in Your Life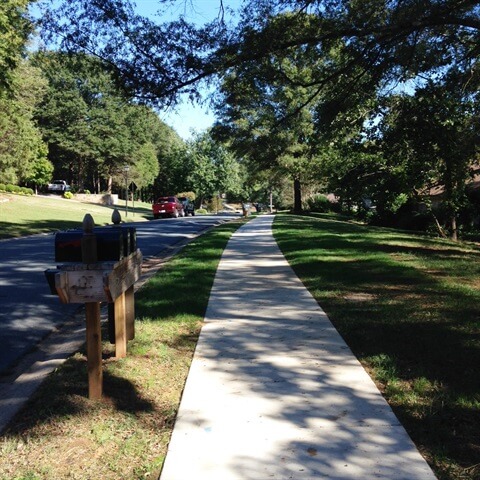 This month, I invite you to reflect on the places you have lived through the lens of walkability. After reading A Walking Life: Reclaiming Our Health and Our Freedom One Step at a Time, I've been reviewing my own life through this lens. Antonia Malchik, the author of A Walking Life, explores the ways walking enhances our lives – physically, emotionally, and socially. And she extends this to those who use wheelchairs and mobility aids, too.
Thinking back, I remember my early years in the small town of Yellow Springs, Ohio, where we lived just a block from the Antioch College campus. Not only did my two sisters and I wander the streets of the town but also the lovely campus with its meandering sidewalks and arching shade trees. We walked to school and back and thought nothing of it. And the Yellow Springs Glen was a forest preserve we could happily get lost in – and then find our way home in time for dinner.
When I was ten years old, we moved to a house in the country. There were no sidewalks, but I could cross the country road and walk through a cow pasture, arriving at a farm where Mr. Jenkins let me hang out. My two feet took me all over this farm, traversing corn fields, climbing into the hayloft, and finding places where my friends and I could pitch tents and camp out.
A few years later, we moved to suburban Birmingham, Alabama. A handful of friends lived close enough reach by foot, but our family was now dependent on car transport for almost everything.
After graduating high school in Birmingham, I returned to Ohio to attend Antioch College as a student. No one had a car, and it felt good to get back to walking as my major means of transport. I even wrote an "independent study" proposal for P.E. So, instead of spending time in the gymnasium, I walked three miles a week while taking photographs. I cherish memories of walking in or near the forest preserve, even in the rain and snow, often following the railroad tracks toward the nearby small city of Springfield.
Graduate school took me to New York City. Although I got there by car, I ended up storing my car in New Jersey because it was much more practical to use public transportation. That lifestyle continued, even when I moved to Washington, D.C.
Meanwhile, I often walked in marches – protesting wars and advocating for cancer research and environmental action.
When I met the man who would become my husband, our main transport was by bicycle. I'll leave my narrative here because I think you get the idea: I invite you to revisit the stages and phases of your life through this lens of walkability. Where did you walk? If you faced personal physical barriers, how did you navigate your surroundings? Do you agree that walking is important … socially, emotionally, and physically? How could we improve our communities so we would be less dependent on personal automobiles?

Click here to see what others have written!

Please send in your paragraphs! We want to hear what walking, or other forms of mobility, has meant to you!
Fill Out Form Below To Submit Your Entry