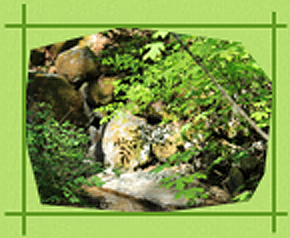 Here you can read submissions from writers just like you!  And, below, you have an opportunity to submit something you've written!
From an anonymous contributor:
Returning to Seattle via plane, I was delighted by a comment from the woman sitting next to me. Peering out the window as we descended, she said, "It's like sinking into a bubble bath."
This reminded me of another simile about Seattle. Reporter Paul Doherty described downtown Seattle as viewed from Seattle's Queen Anne Hill: "Below, downtown Seattle seemed to levitate in a foggy shroud, its buildings like bumps in a linen tablecloth."
I've recently been reading A Tree Grows in Brooklyn by Betty Smith. This was originally published in 1943. It is a book that my mother mentioned loving, yet I'm just discovering it for the first time. It's a bit like Angela's Ashes, in that is describes some of the hardships and indignities suffered by Irish immigrants in America. The protagonist, Francie, describes her struggle for an education at a time when the education of girls was not considered important.
As described, on New Year's Eve 1917, Francie and her brother Neeley, now young adults, climb a ladder to the roof of the tenement where they reside with their widowed mother and baby sister. On the roof, they are giddy with a sense of possibility for their futures. Francie looks out over Brooklyn:
The starlight half revealed, half concealed. She looked out over the flat roofs
uneven in height, broken once in a while by a slanting roof from a house left over
from older times. The chimney pots on the roofs…and on some, the shadowing
looming of pigeon cotes…sometimes, faintly heard, the sleepy cooing of
pigeons…the twin spire of the Church, remotely brooding over the dark
tenement…And at the end of their street, the great Bridge that threw itself like
a sigh across the East River and was lost…lost…on the other shore. The dark East
River beneath the Bridge, and far away, the misty-gray skyline of New York,
looking like a city cut from cardboard. (p. 306, A Tree Grows in Brooklyn,
Harper & Row, Publishers, 1947)
A great simile from War Dances by Sherman Alexie:
"That night my sons climbed into bed with me. We all slept curled around one another like sled dogs in a snowstorm." — p. 45, Grove Press, 2009

Click here to see what others have written about other challenges!
Click here to send in entries!

Awaiting your entries for the April Challenge!