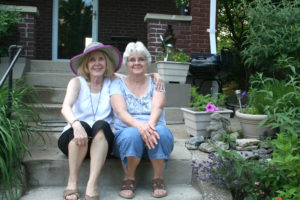 Last week I was visiting my grandson's elementary school. I'm part of a program there in which parent volunteers read selected books to each class.  These children's books feature stories that show the importance of kindness and the avoidance of bullying. Teachers and volunteers develop these concepts further by talking, throughout the school year, about filling each other's imaginary buckets with acts of kindness. So, each child strives to have a bucketful of kindnesses collected by the end of each day.  Of course, this involves a lot of reciprocity. And, if someone is unkind to another student, it is as if they took a kindness OUT OF that child's imaginary bucket. If they recognize this, they need to find a way to put a positive act back into the other's "bucket."
I think many of us go through the day on the receiving end of kindness as well as its many opposites … disappointment, indifference, and rejection, to name a few. As adults, most of us have learned to cope with the negative and to rejoice in the positive. School kids are not necessarily that resilient.  Nor are they usually skilled in looking for opportunities to help each other, to help "fill someone's bucket." We adults may have learned coping skills, but have we truly learned to productively receive and deliver kindnesses throughout the day?
As we approach Thanksgiving, I thought a good topic might be to reflect on the things we do or say to help fill each other's buckets with kindness. And, to recognize the way that others put kindness into our own buckets, even though we may be slow to recognize all these 'random acts of kindness.'  At my writer's group this morning, one of the quieter members laughed and smiled as I read a droll piece I had written. She could have remained silent, but her laughter and smile was affirming to me, going the extra mile to put some kindness in my bucket. She made eye contact as I left the group, and thanked me personally for the banana bread I had brought. The members of our writing  group are routinely kind to each other, so this kindness I observed was  "no big deal." But, as I think back over the morning, I see her kindness resting in my imaginary bucket. And, if something frustrates me or disappoints me later today, I'll think back on this, and be grateful. I'm trying to not take all these acts of kindness for granted, but to really notice, appreciate, and "pay kindness forward" — finding a way to be kind to someone in my everyday life.
So, here is this month's challenge:  What do you do to fill the buckets of others with acts of kindness?  What acts of kindness do others put in YOUR bucket. Do you take time to notice? Could you perhaps write these down at the end of each day, keeping a gratitude journal? Is there someone in your life who has been especially kind to you? Would you like to write an essay about this person?
Please submit what you come up with!

Click here to see what others have written!